Dear Readers. As you know, the theme of my blog is Adoption Reflections – Multiracial Family.
Most of my life I wear a metaphorical "hat", saying mother, grandmother, wife, friend. ( Previously when I was working I would sometimes be wearing a metaphorical hat of colleague).    I feel so fortunate to have four offspring and five grandchildren and to have good friends and former colleagues.
HOWEVER, there are small things I do or see, just with a 'me' hat on. Or sometimes a "me and D." hat. It is some of these that I would like to share with my readers. One couldn't do this in the middle of a published book, but I think it is allowable in a blog. I follow other peoples' blogs (for example The Bookwitch) and I enjoy it when the writer takes a flight of fancy.
Here I will pause in our family story and indulge in a flight of fancy. OK?
With a bit of imagination I actually could link to my theme what I am about to describe. I could perhaps entitle it "Diversity" or "Family holidays", but that would be rather forcing the issue.  (One reader said to me that she preferred L-o-n-g- blog posts, so this might suit her. I hope so!)
A couple of years ago, my husband D. and I decided to take a long weekend break in the South of France. We like travelling by train and the idea of travelling by Eurostar and the TGV to Marseille seemed very attractive. We had a very interesting time in the Marseille area.
 What a view from Marseille station!
We went on a boat trip round the harbour and the coast, took a beautiful train trip and weirdly that trip only cost about 5 Euros, because we were there during a special 'Patrimoine' weekend, when travel is cheap!
The highlight of our trip was a KITE FESTIVAL. It was free, colourful and entrancing. We met so many people who spend their leisure time building and erecting wind-blown scenes for pleasure. The slightly 'forced' link with diversity is that the participants of these delightful hobby activities came from a variety of European countries. (Strangely, apparently nobody came from Britain, but the countries mentioned were France, Belgium, the Netherlands. . . ) The creations must have given the creative artists pleasure and they certainly did the same for us. I can best illustrate this by a few photos.
It is interesting that the people who built these delightful wind-blown artefacts were not doing it for financial gain. I think they were simply making these things for pleasure – to give delight to themselves and anybody who happened to be passing.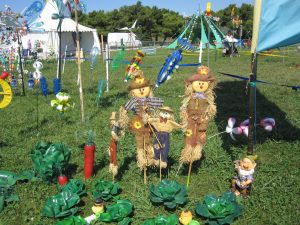 We spent most of the afternoon looking at the small creations and talking to the creators,
before wandering over to see the more traditional large kites.
I feel happy that I have found a medium whereby I can share these expressions of joy with others!   Thank you for dropping by.
N.b. We took our children for quite a few camping holidays in France. I must remember to write a bit about that one day, but in my next blog I shall return to our family history.