I have been writing stories for as long as I can remember.
I still have a copy of a story that I wrote in a school exercise book when I was at Primary school.
This is what I looked like in those days.
My first 'published' story was in a school magazine when I was about eleven.
All the long stories I wrote as a teenager have disappeared (which is probably just as well).
When I grew up and married, we had four children. First we had two girls born to us and then we adopted two boys. They kept me very busy.
One day my grandmother said to me "So what about all those stories you were going to write and have published?" This spurred me into action. When we moved to London, I joined a 'Writing for Children' class. It was very helpful and eventually I began to write picture book texts. Originally I had expected to write novels, but I began to enjoy the challenge of writing picture books. (They are not as easy as you might think!)
After about two years I had my first picture book accepted for publication by Andre Deutsch. It was based on our youngest child, who always tried to keep up with the others. I called the character 'Sammy'. I wrote four 'Sammy' stories. 'Sammy' often gets carried away by his imagination and usually ends up triumphant.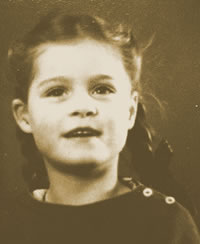 'Sammy' is the youngest child of four and 'Jasmine' in My Big Brother JJ is much younger than her brother. However, I have a younger brother, so I was the Big Sister at home. We were brought up in a very international atmosphere.
Our maternal grandmother – Grandmère – was half French. Even though she had been brought up in England, she spent a lot of time in France. She loved France and spoke to me in French right from the beginning. I was born during World War 2, so we could not go and see the relatives until well after the war was over.
Both Grandmère and Grandpère spoke to us a lot about France. Grandpère regularly entertained me with the story "When we go to France". This would begin with all the details of the boat journey and go on to visiting all the cousins and the Great Aunt. I really loved hearing this story Over And Over Again.
I didn't understand much about the war when I was very young. When my grandmother told me that after the war we would be able to have biscuits with pictures on, I thought that was Quite Amazing!
My parents told me that my Great Aunt in France had heard about my birth before all contact between England and France was cut off. She was so happy, that she hurried off and bought a china doll for me. Unfortunately things moved very fast. By the time she had bought the doll, it was impossible to send any messages, or anything by post to England. This was a bit of a problem, because some occupying soldiers used to take whatever they wanted from French houses. If they found a child's toy, they would send it back to their own families in Germany. My Great Aunt's neighbours used to bury any precious things in their gardens, to hide them. My Great Aunt thought this was a good idea and she put the doll in a tin box and buried it in her garden. After the war, she dug the doll up and gave it to me. I still have it.
Both my parents were Esperantists. Esperanto is an invented, fairly simple language that anyone can learn. This means that people from different countries can talk Esperanto and understand each other. (Nowadays a lot of people can speak English but this used not to be so.) My parents entertained people from all round the world – although the people I remember came mainly from South America and Europe.
Later, when my husband and I applied to adopt our first son in the 1970s, we had responded to an appeal for families to adopt a black or 'mixed race' child. At the time, such children were growing up in large numbers in children's homes. A few years later it was realised that it would be easier for children to be adopted by parents who were of the same race. As a result, inter-racial adoption happens much less today. Anyway, we all learned a lot along the way and we are so delighted with our two sons.
"Colonie de Vacances" – A children's Holiday Camp
When I was nine years old, the war had been over for a few years and people were once again able to visit France. Everybody in our family was quite poor and they had to save up for a long time before they could manage to pay for the trip. My grandparents took me. Here is a picture of me in front of the Eiffel Tower in Paris.
At first we all stayed with my Great Aunt, but then it was decided that I should stay down the hill in a Children's holiday camp – a "Colonie de vacances". This was supposed to be good for my French. But the children were not very friendly and I felt extremely homesick.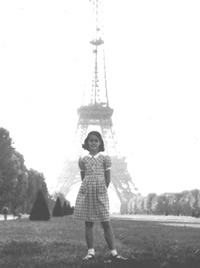 I used to LONG for the twice a week visit, when my grandfather came to pick me up and we went up the hill to my Great Aunt's. He always bought me a two-flavour ice cream for the long walk along the beach and up the hill. I thought the French ice creams were quite delicious! I had never tasted anything like that in England.
Sometimes it was the strange, unusual food that made me upset and especially homesick. For example, on my first evening at the Holiday camp we had to eat artichoke dipped in oil and vinegar. To me, this strange vegetable looked exactly like a HUGE thistle! You were supposed to dip the soft end of each "prickle" in the oil and vinegar and suck it. I thought they were joking at first, but unfortunately they weren't.
Here is an artichoke. [Nowadays we see all sorts of interesting fruit and vegetables from around the world and we can be more adventurous in what we eat.]
Another time when I was most unhappy was at bedtime in the dormitory. All the other children seemed to know a lot of prayers that they said out loud. But I only knew 'The Lord's Prayer' and had to keep repeating it. Everybody teased me. Now that I am an adult, I can't help thinking how strange and stupid it was to be taunted about saying the "right" prayers.

My mother gave me a notebook to write a diary, so that she could hear all about the holiday. I knew how hard it had been for all the family to pay for this holiday, so my diary entries had to sound positive. I hit on the good idea of writing a diary of the HORRIBLE things in a different notebook and wrote about the "Good" things in my mother's diary. Strangely enough I still have the "Good/Made-up" diary. I wonder what happened to the truthful one? I wonder whether she ever saw it?
I remember that one day I had a real playground fight with a French boy called Jean-Pierre. He said that New York was bigger than London. In those days I had always been told that London was the biggest city in the world and he and I fought a fierce battle!
One good result of my time in the Colonie de Vacances was that I became fluent in French (including "naughty" words!)
While I was growing up, I lived in:
Streatham Hill, London and Reigate, Surrey
In 1962 I married Donald, who became a minister of a church. We moved a lot, to serve in different churches.
Forest Hall, Newcastle-upon-Tyne (The North East of England – a great region)
West Malaysia – Johore Bahru (Tropical, hot, sticky, colourful)
Low Fell, Gateshead (back to lovely Tyneside)
Leicester
London
I love London, so now I plan to stay put.
Questions I have been asked
What kind of books did you read when you were a child?
The only picture books I remember were Beatrix Potter stories. We had them in French and English. Oh. And Barbar the Elephant and a story about some naughty kittens.
I love the fact that good stories can live on and on. I think most of my favourites are still in print. That is very good, as it is a long time since I was a child. I can't list all the books I loved, but here are a few:
Ballet Shoes, Thursday's Child and other stories by Noel Streatfield
Swallows and Amazons by Arthur Ransome and most of this series.
The Secret Garden, A Little Princess, The Little Lord Fauntleroy, all by Frances Hodgson Burnett
Just William stories by Richmal Crompton,
Little Women by Louisa May Alcott.
Heidi by Johanna Spyri
+
Jane's Country Year, by Malcolm Saville. (This was set on a farm. It described the countryside and the changing seasons so beautifully and had excellent illustrations.) Now I am very lucky because I have been visiting my husband's cousins on their farms in Herefordshire and Cornwall for over 40 years! One of their farms, Shortwood is an Open Farm, where city children as well as country children can have a wonderful time being able to see and touch many animals.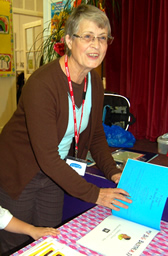 I used to read a lot, often when I was supposed to have the light out and to be asleep. I used to pretend I was one of the characters in the books.
My mother encouraged us to read. She wanted me to like the E. Nesbit stories that she had loved. I thoroughly enjoyed The Railway Children, but I did not like the stories where the brothers were constantly bossing the girls around and being thoroughly disrespectful because they were 'just girls' – Very Annoying! I must have been an early feminist!
I loved reading stories to my children. However, our second daughter much preferred funny poems and stories about real people. That showed me that children like all different kinds of reading experiences. If you don't particularly like one kind of book, try something else. For example, you could try sports stories, horror, non-fiction, science-fiction, fantasy, comics, poems etc. And now there are all new kinds of digital ways of reading.
What do you enjoy doing when you are not writing?
Being with grandchildren
Visiting France
Camping (only in good weather)
Gardening. I love our little London Courtyard garden.
Walking in Scotland
Music
Dancing
Reading
Playing bubbles for children to 'catch'
Watching fireworks