Last weekend we visited two family farms.  When writing the story of Abigay's Farm, in my head I switched between both farms.  We were back in both during the weekend.
We were attending a Memorial weekend for Jimmy, aged 90+, the 'patriarch '.  He was the much-loved father of four and friend of many.  The event took place in a beautifully cleaned and decorated barn that I had only ever seen full of cows.  In front of it there used to be a silage pit.  It was the scene of Juliette's disastrous game of 'Hide and Seek'…. You'll need to read the story to learn more.
I expect many authors picture familiar scenes when writing their stories.  It is the strangest feeling to return to the scene, with the story and happenings whirring round in one's head.
The story so far.  Progress with assisted self-publishing. (Nearer the time of publication, I'll name the publisher.)
The front cover is being worked on by the experienced cover production team.  All I know is that the illustrator – Patrice Aggs – has provided a lovely image. I suggested what it could be and she produced something better than I could imagine.
I have been consulted about a font I would like for the title.  That was fun.  I had no idea that there were so many different fonts.  I was asked for one sentence to put underneath the title.  (That took me an entire day to compose!). Another interesting question I was asked by the team was 'What would you like the reader to feel when they see the cover?'  I opted for: 'I hope a child reader would warm to the character depicted – almost like She could be my friend'.
I was also asked 'What genre is your story?'  I suppose that would inform the designers of the atmosphere to create. I went to bookshops and identified many genres:- Adventure, Mystery, Historical fiction, Humour, Science Fiction, etc.  In the end I decided that Abigay's Farm is realistic fiction.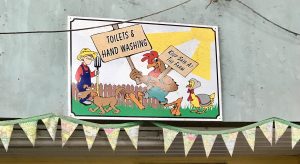 Proof copies. So far the text has been typeset and I have seen what is called First Interior Proof. The illustrations have been placed where I asked and it is beginning to look like a real book. Abigay's Farm – Watch this space!