I woke up with with a start.
After around four years of writing the story, today was the day when my children's novel Abigay's Farm was finally going to be launched!
The first text I received that morning was from a friend Hilary in Manchester.  "How is everyone down there?  Has your book been published Odette? Where can we purchase it, if it has?"  Quick as a flash, Hilary's sister Nicky in Canberra Australia, sent a message 'It's for sale here!' She gave a link to "www.booktopia.com.au". I replied to Nicky 'I'm smiling at your message!'  Nicky's response was simply. 'It's available WORLDWIDE!'
I did a lot of smiling during Launch Day.  This was to be my eighth book launch. All previous ones had been held in schools, usually at a school assembly and one at the Barbican Children's Library but I had never been able to invite family or friends.  This time there would be many writing friends, many family members, other groups of friends and new friends and contacts.
We used to live near Belsize Park. Rachel, our older daughter still does and when friend Angie suggested that we should ask permission to use the local Community Library, we thought that sounded an excellent idea.
A few days before the launch I had been worrying about how to organise things, how to arrange various tables at the venue. We would need separate tables for drinks, refreshments, a table for any children who might appear, one for a big display that friends had helped us to prepare, another for collecting the money etc.
I shouldn't have worried, as we had already assembled a lovely planning team. Lucy, Library Manager, Angie volunteer at the library, Marian, long-standing friend from Camden Town church, Stephanie – fellow writer from our Islington Writers for Children critique group and person of great inspiration! And Donald, husband who arranged so much – getting the Zettle card paying machine, getting a poster for the display, organising drinks, biscuits, transport etc. etc.
On the day, Lucy was the epitome of helpfulness about using the space and tables.  We were soon all set up and ready to go!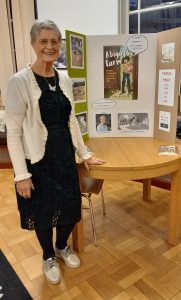 .
Candy Gourlay, good friend of so many children's writers (members of SCBWI – Society of Children's Book Writers and Illustrators) had a previously booked engagement but she came for an hour. It was great to see her!  I was able to welcome her formally at the beginning of the speech and the reading part of the evening.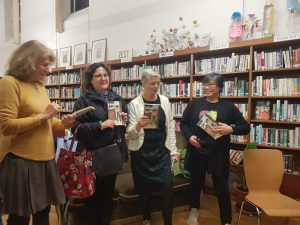 Penny Joelson who had been my tutor at the City Lit was there, which was great.  I can't imagine how many drafts she has heard of bits of the story. I'm sorry I can't list everyone present, but I was delighted that John O'Leary was able to attend.  You'll see under Acknowledgements how much I am indebted to him!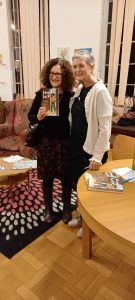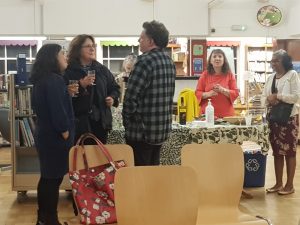 Patrice Aggs, illustrator also had a prior engagement but it was in the Isle of Wight so she could not be with us.  However, I was able to pass on her good wishes for the launch and I added the news that she is up for quite a few awards for the graphic novel she has illustrated – No Country by Patrice Aggs and Joe Brady. It's brilliant – do check it out! Our son Ben was not able to attend but he is full of helpful ideas of how to publicise the book.
SilverWood Books are based in Bristol and they were not able to come either, but they had completed their tasks admirably.
Rachel did a great job as Chair.  Son Roger's account of the joy of staying at the farm throughout his life was most enjoyable.
Husband Donald read his delegated extract beautifully and daughter Jo graced the occasion. She had come down from Inverness for the event.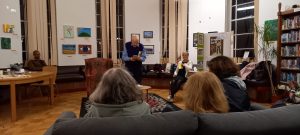 .
.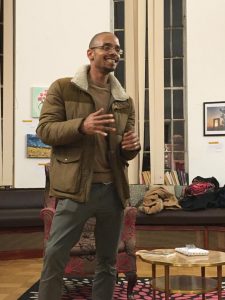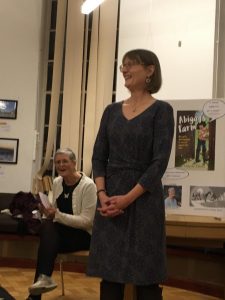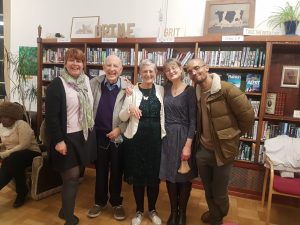 There is a famous saying. I believe it is from Africa."It takes a village to raise a child".  I am trying to think of a natty phrase about what it takes to produce a book, but I haven't come up with one yet.
Many of the people who helped me over the years were present,(e.g. fellow writers from Islington Writers for Children) along with kind friends and contacts giving support on the day ; from a lovely group of  friends – knitters from "Harrow Purls" Elvira, and Shan – and Apina who quietly took excellent photos.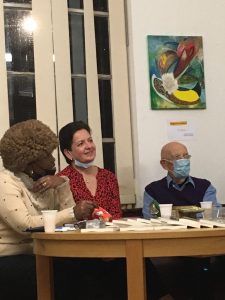 Plus Elizabeth – who counted the money  – Betty and others from our church in Harlesden. Also, schoolfriend Sheila who came from Norwich and also took some lovely photos.
I am of course indebted to our ever-welcoming farming cousins Janet and David in Herefordshire.  We need to go there soon to make sure that the book gets into bookshops and libraries in that area.  Plenty to do!
Now I hope that everyone will help to spread the news so that as many children as possible can hear and enjoy the story of 'Abigay's Farm.
ISBN 978-1-60042-133-2
Available from bookshops, www.silverwoodbooks.co.uk, Amazon,
and also as an e-book. ISBN 978-1-60042-188-2