UK NEWS:
PIGS are in the news in the U.K. and not in a good way.  I know that farmers care about the animals in their care and many pig farmers will be feeling sad and worried right now. I feel extremely sorry for them
PERSONAL NEWS:
Something to share in my personal news is that Abigay's Farm is at the printers.  A friend said recently "I bet you can't wait to hold a copy in your hand!"  That struck a chord with me.  After toiling over the story for around four years, I can now begin to dream of holding a copy of the completed book in my hand – and showing and sharing it with others. Hooray!
The publishers, SilverWood Books are keeping in touch with me every step of the way. This assisted self-publishing process is very interesting. They are very good.
Very soon I'll share a picture of the cover of Abigay's Farm and you will see Patrice Aggs' illustration.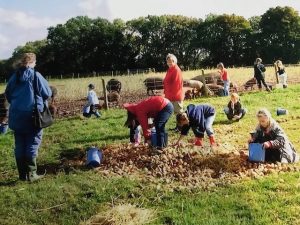 You might be wondering what the significance is of this photo.  It was taken some years ago on the Open Farm that inspired my story.  If you want to discover what relevance an Open Farm has to Abigay's Farm, you'll have to get a copy and read the book.!
Details of how to order a copy will come in the next post.  Keep watching this space.