Today, as I am thinking about my next blog post, Donald Trump has been announced as the President Elect, due to take over early in 2017. What will this mean for ordinary American citizens? What will this mean for minority groups?
I have probably said all I can say about the past and the early days of adopting Jah. Now I can turn my mind to multicultural issues. Today everybody, including our multiracial family has to face the future in an increasingly uncertain political climate.
Women in today's society
In so many ways girls and women as well as 'people of colour' are disrespected throughout the world. What can one say to our black granddaughters, sisters and friends? I take it as given that men and women and people of all races are equal in the sight of our Maker. And that, despite small outward differences, we are all members of the ONE Human Race.
Our black daughter-in-law has faced racism and appalling sexism in her work, but with the support of her husband, Sam, has been able to find a new job and to rise again. They have two daughters. The little one Zara is only two years old. The older one, Mia, is now ten.
I am quite excited about a book we are going to give to Mia this Christmas. It is my attempt to instil positive thoughts and give her information about wonderful women. When we were bringing up our own two daughters I don't remember having such inspiring books for children, but I DO REMEMBER the adrenalin flowing when I first read the adult book "The Female Eunuch" by Germaine Greer in the 1970s! I can honestly say that it changed my view of being a woman and my understanding of the situation of women throughout the world for ever.
See below the book we are going to give Mia, to give her information on Female Role Models. It is published by Bloomsbury and the design of every page is most attractive and eye-catching.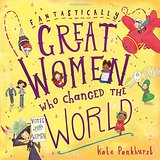 This book as described by Amazon:    "Kate Pankhurst, descendent of Emmeline Pankhurst, has created this wildly wonderful and accessible book about women who really changed the world.
Discover fascinating facts about some of the most amazing women who changed the world we live in. Fly through the sky with the incredible explorer Amelia Earhart, and read all about the Wonderful Adventures of Mary Seacole with this fantastic full colour book."
Bursting full of beautiful illustrations and astounding facts, Fantastically Great Women Who Changed the World is the perfect introduction to just a few of the most incredible women who helped shaped the world we live in.
Here is a list of women featured:
Jane Austen,
Gertrude Ederle,
Coco Chanel,
Frida Kahlo,
Marie Curie,
Mary Anning,
Mary Seacole,
Amelia Earhart,
Agent Fifi,
Sacagawa,
Emmeline Pankhurst,
Rosa Parks,
Anne Frank
And of course this is only a small selection.  The strap line at the back of the book says
"This book is the perfect introduction to just a few of the incredible women who helped shape the world we live in.  Follow them and prepare for an adventure of your own."