I have finished writing about our family's adoption journey. Time has moved on. We now have five wonderful grandchildren. As I write today, one is about to have a big operation on his back for scoliosis. The other three children are at school.
Update: Our grandson's operation went very well! Feeling grateful for the skill of surgeons, nurses and the whole NHS team.
And so how about our very first grand 'child' Cherry? ** see below a link to an article for the ME Action website about Cherry
MY RANDOM JOTTINGS FROM CHERRY'S BEDSIDE
Our eldest granddaughter Cherry is now aged twenty one. She is clearly not a 'child'. She is suffering from the most severe case of Myalgic Encephalomyelitis known as Severe M.E.
She lies incapacitated in a darkened room, fed through a tube and unable to get out of bed. Dangled across the mirror in her darkened room is a golden coloured banner declaring ' Happy 21st Birthday!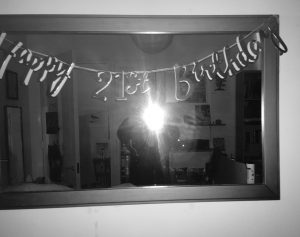 Cherry's birthday was way back in January – 8 months ago. She can see the words on the mirror, but we are now in October and she STILL hasn't seen her presents because this crippling and incapacitating condition means that she cannot sit up and look at things. She does not have long enough moments of energy – just tiny seconds. Sometimes she must feel desperate: at other times she can smile and very rarely laugh. It is INDEED a cruel MYSTERY illness.
There are support organisations for ME. Also some research is going on but hardly enough, given the fact that in the UK there are an estimated 25,000 people suffering from Severe ME, and of those around 10,000 people in Cherry's extremely weakened condition. In the USA that figure rises to c. 1 million! (Again, a rough estimate) And of course there are sufferers all round the world.
I cannot enter into scientific discussions. My intention is to make occasional blog entries from the point of view of a day-time family member/ carer. This might consist of reporting occasional whispered exchanges between Cherry and myself. Perhaps this will enable people to understand just a bit about what life is like for sufferers? And also it might be of interest.
 If anybody reads this. . . IF it could lead to more research, wouldn't that be wonderful?
** https://www.meaction.net/2019/01/23/the-effects-of-graded-exercise-therapy-and-positive-thinking-on-a-young-girl-with-me/