Resuming the story of our multiracial family. . .When we moved to London in 1983, we joined a church in Camden Town. The congregation was very small and very friendly. There was one family of two children from a dual-heritage background. The mother was from Northern Ireland. The father was Asian but he died when the children were young, so the mother was bringing them up alone..
There were adults from the Caribbean, from Trinidad and Tobago, but no children.
There were also adults from Guyana and a delightful family from Ghana
The Ghanaian family had two tiny children and a baby, but every time their youngest could be separated from the parents, he or she was sent back to Ghana to be looked after by relatives until the young parents had finished their studies and could return to Ghana to join their children.
So we were in a multiracial setting in London, but at church there were no black children for our children to play with. Sam was already 11 years old and we hoped that he could meet other secondary age children as well as his school friends, so we looked around for another multiracial congregation. Fortunately we found one in Tottenham.
Travel to Tottenham was fairly easy by car or public transport and we attended there for many years. The children had plenty of black children and young teenagers to be with and to share ideas with.
The Minister and his wife took the children on holidays. They were very adventurous and took the children as far as Cornwall. This proved to be a learning experience for the London kids. They encountered some hostility from the Cornish children on one occasion, but I imagine that the minister dealt with the situation successfully. We only heard about this later on. The Minister and his wife took children back to Cornwall the following year. Each time many adventurous activities were available for all the children, including abseiling and caving. These holidays were excellent occasions for all.
I don't have very clear memories about the Sunday school or the activities there, but I feel that we did as much as we could to ensure that the boys would meet other black children. We knew perfectly well the pressures that young black people had to endure in those days. Our son Sam was a well-motivated, polite and lovely young teenager, but he was frequently "picked on" by the police for absolutely nothing. On one occasion he was simply walking home from school and a policeman stopped him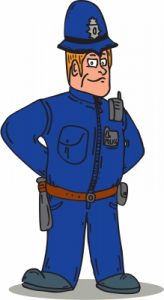 Image courtesy of vectorolie at FreeDigitalPhotos.net
Policeman: "What'you doing round here son?"
Sam: "I'm, walking home."
Policeman "Oh. YES??" Sneer: " I bet you don't belong round here. . ."
This kind of statement was stupid from every conceivable point of view. Yes. Our house was in Primrose Hill, but if the policeman felt that black children could not live in the private houses, there was also a huge Council block of flats in our road, so obviously he could have 'belonged' in one kind of property along that road. (It was a very mixed community in every sense. Long may London remain like that.)
I am talking about the 1980s and I don't want to recount the other occasions when Sam had to endure unfriendly reaction from the police. (Sadly there were a few.) However, I will say, that when I observed young black adults chatting to each other on the Underground, I sometimes noticed that they were discussing their own encounters with the police and that they were always extremely humorous about these encounters. I was quietly eavesdropping on their humorous comments. Of course I kept quiet. Their conversations were nothing to do with me, but inside me I saluted their reaction to this kind of harassment and humiliation. Clearly humour can help in many occasions. As parents when we tried to help Sam, humour was not an appropriate reaction, but among the young people themselves, it probably gave them an upper hand on the situation that they constantly found themselves in. Sharing these experiences with their friends and putting their own gloss onto the encounters would help them to deal with the injustice.
Nowadays, in 2015 I am in the grandparent generation and not involved in bringing up teenagers and I like to think that open racist comments are not so prevalent. I do not know, but let's hope not!