"Girls and self-image" may not appear to be relevant for the upbringing of two boys from a Caribbean background, but this is certainly relevant for their daughters – the next generation.
We have four granddaughters. So far, only one of them has shown much interest in dolls. On  29th January 2016, I read that Mattel,  the manufacturers and designers of Barbie dolls have announced that they are going to produce dolls of different body shapes. And I say "About Time Too!"
The fact that our granddaughters have not taken much interest in dolls only shows that all children are different and one cannot pontificate on what they will really like! Children will go their own way. For example, our granddaughter 'Mia' has been given quite a few black dolls through the years by her thoughtful aunties, but the dolls usually remain stuffed in a cupboard, whereas, the black and white tiger, the cuddly dog, and all the cuddly animals are highly favoured, played with and loved.
I am glad at least that Mia enjoys the film 'The Princess and the Frog, which features Tiana a beautiful black girl.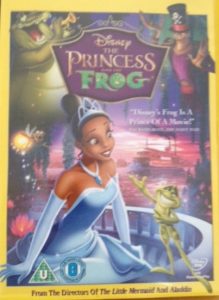 However, to return to the matter of DOLLS, I am pleased to hear the news from Mattel. There has been too much pressure on thin body-shapes for far too long.
*****
I'll quote from the Guardian (29th January 2016)
 "With her tiny waist, stick thin legs and petite frame, the Barbie doll has been accused of promoting an unhealthy body image for over five decades. But now, in her biggest update since 1959, it's out with the skeletal frame and thigh gap, and in with the curvy hips and thighs as the company has revealed three new body types for the dolls to reflect a "broader view of beauty".
 Mattel says it has 'a responsibility to girls and parents to reflect a broader view of beauty'.
 Mattel, the creator of the toys, said the new range – which also boasts seven different skin tones – was designed to promote a healthy and realistic body image and would better reflect the diversity of those who play with the dolls.
 Evelyn Mazzocco, senior vice-president and Barbie's global general manager, said: "We are excited to literally be changing the face of the brand – these new dolls represent a line that is more reflective of the world girls see around them – the variety in body type, skin tones and style allows girls to find a doll that speaks to them. We believe we have a responsibility to girls and parents to reflect a broader view of beauty."
 The new dolls will also boast 24 new hairstyles, including an afro, curly red hair and even long blue hair, a long way from the bright blonde locks traditionally associated with Barbie."
 *****
Our youngest granddaughter is only 18 months old. Time will tell whether she will eventually like dolls. At least she should be able to choose one that she likes the look of.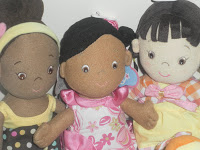 For any readers who would like to read more about dolls for a multicultural society, here is a useful link.http://mixedracefamilies.blogspot.co.uk/ Search for post dated Sunday June 23rd 2013